The Nubia is to smart-watches what the plus-sized displays are to smartphones. The watch comes with an impressive 4-inch display that wraps around the upper half of your wrist, giving the Nubia the largest display on a smart wearable BY FAR. Designed to help lay information out in a way that's easy to see no matter the angle, the Nubia's foldable smartwatch has vertical display is instantly eye-catching and is conveniently long enough so that you don't need to scroll away on a tiny screen.
The Nubia's design makes the case for smartwatches with a portrait display. Giving that our mobile interfaces are mostly built for infinite scrolling. The Nubia's vertical screen really feels like a logical step. Looking almost like a shrunken smartphone that sits on your wrist. That doesn't take away from the fact that it still is a pretty feature-pack smartwatch. It comes with a real-time heart-rate tracker. 4 dedicated sports/fitness tracking modes, the ability to accept and reject calls. Find your phone if it gets lost, and to summon your phone's native voice assistant.
The Nubia even comes outfitted with its own GPS, calendar, music player, stopwatch, alarm, and all the other basic features you'd find in a smartwatch… along with what feels like one of the most captivating wraparound displays I've ever seen on a wearable. Apple, Samsung, Fossil and fitbit are the biggest smartwatch brands in the world. But this foldable smartwatch is world's first and that also comes with an OLED display. Isn't it amazing?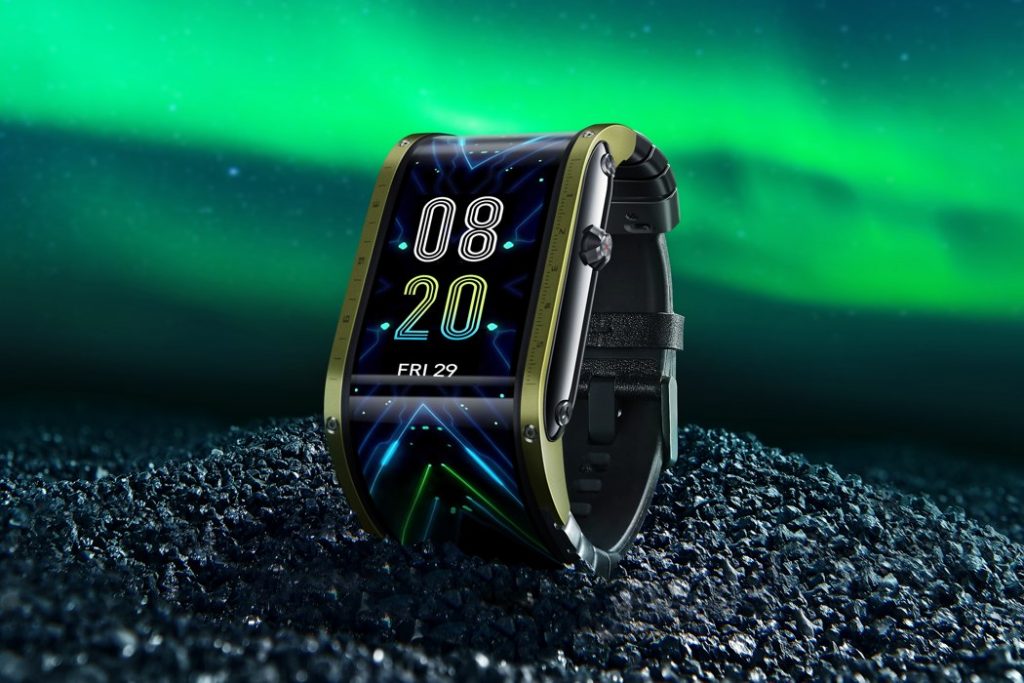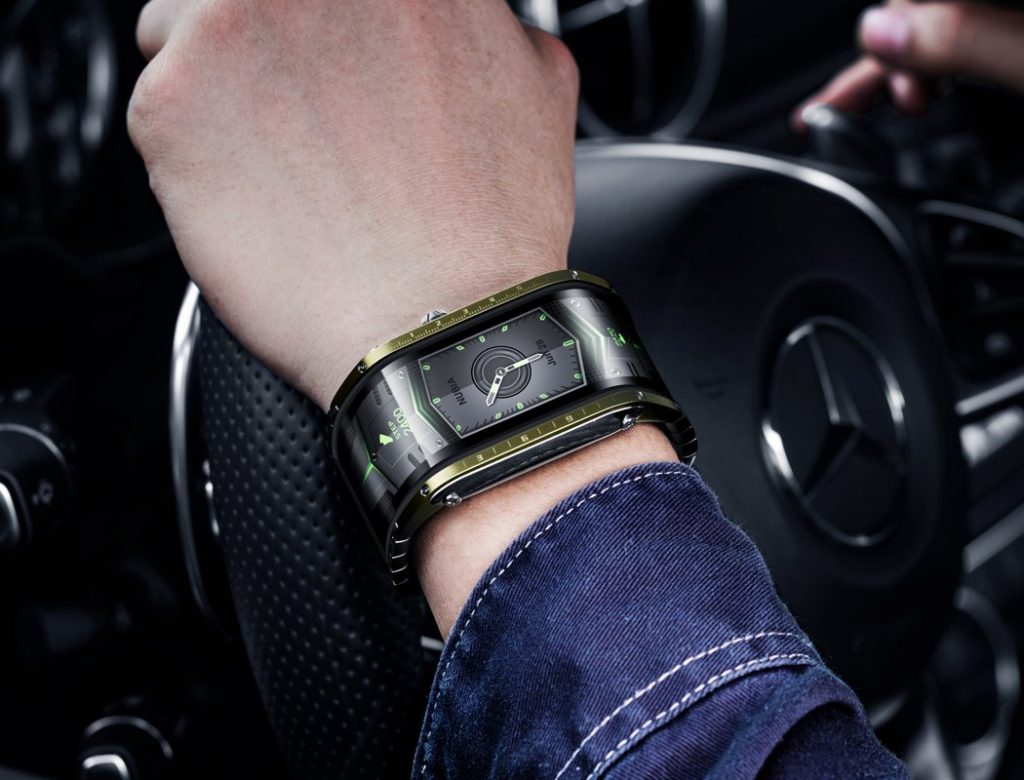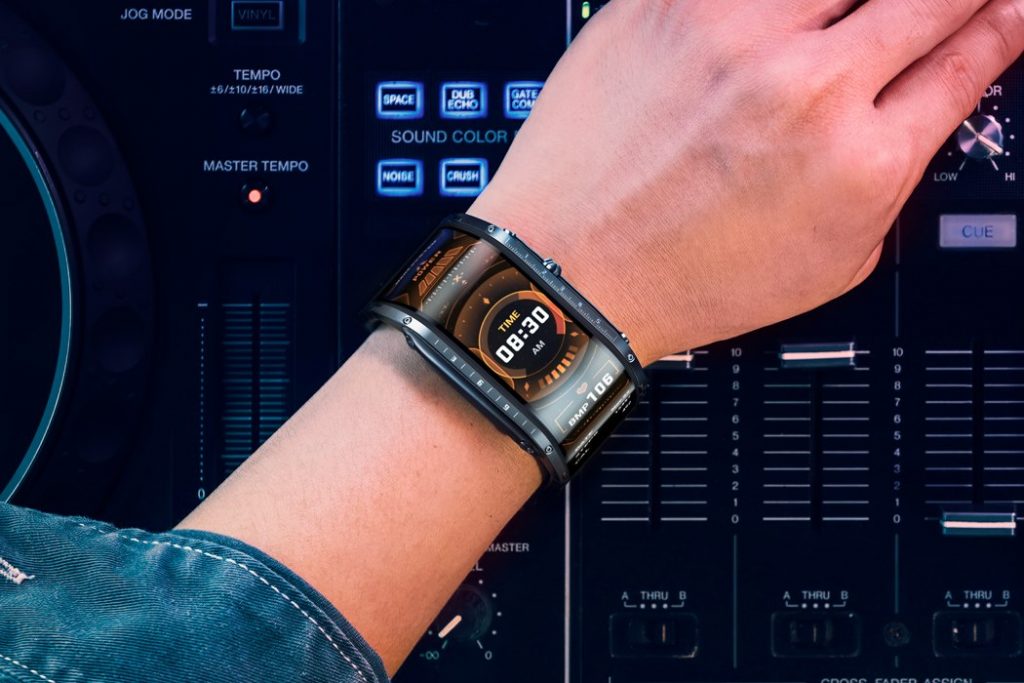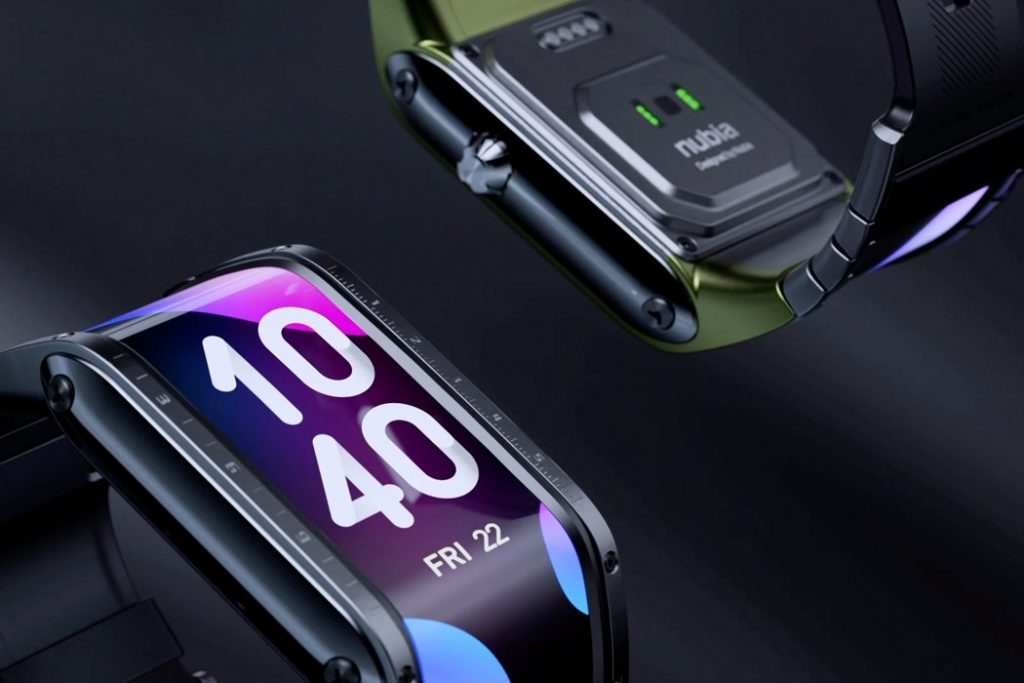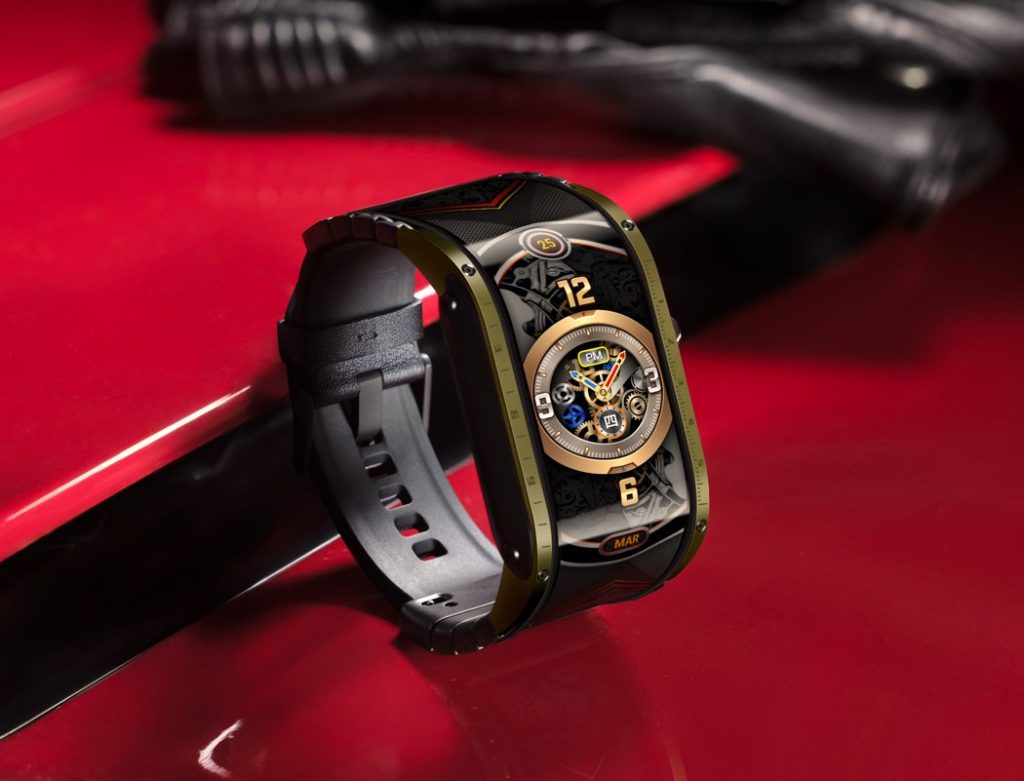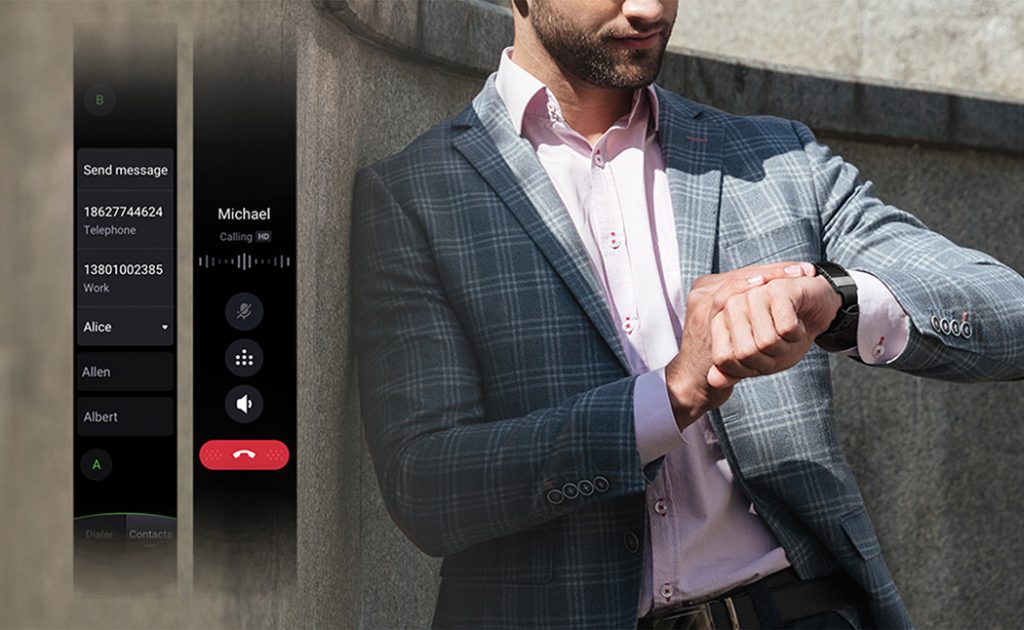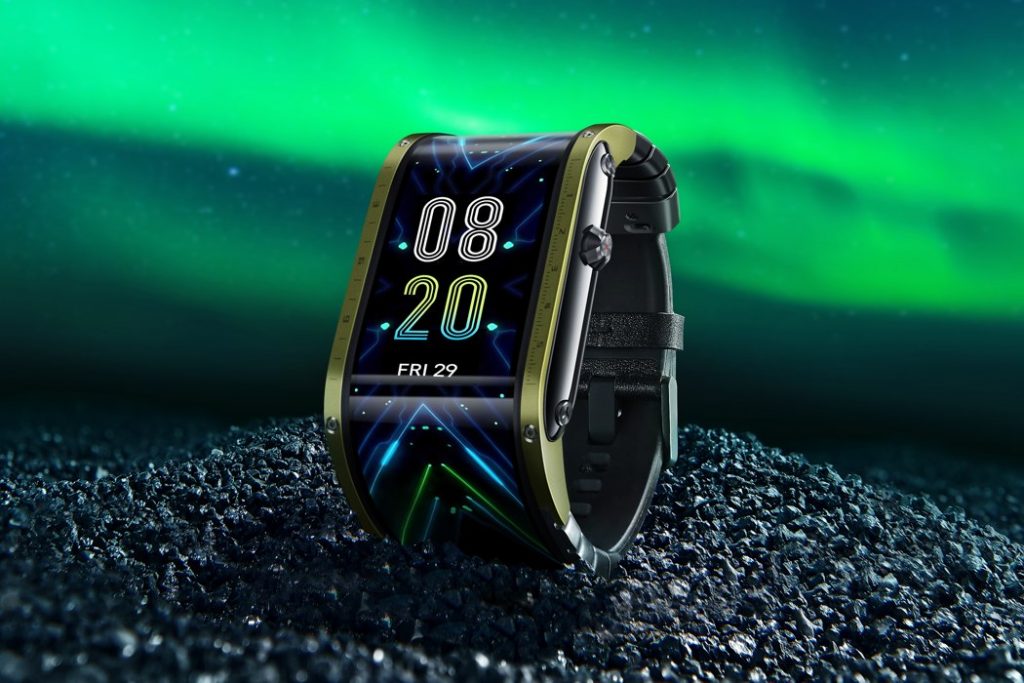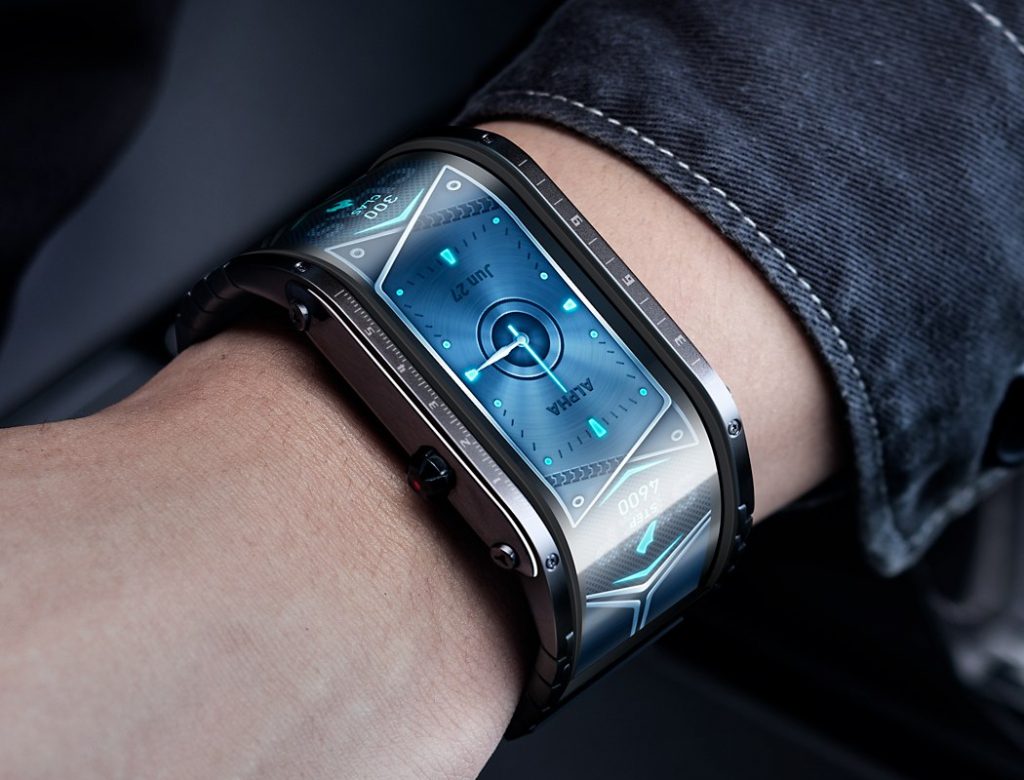 That 4.01″ foldable smartwatch and flexible OLED display is easily Nubia's most defining feature. It covers the most crucial real-estate of your wrist, being visible from all angles as you stare down on it. The vertical display comes with its own set of clock faces to choose from, turning them into artwork that adorns your wrist. You can input the face of your choice from Nubia's smartphone app, even customizing them with your own photos. The elongated portrait display translates to a great UI with minimal scrolling too, as apps like the music player, fitness tracker, and message reader occupy every bit of that vertical real estate really well. This means you're spending more time looking at information on the screen than scrolling, pinching, or tapping away at it.
cascading screen
While the cascading screen practically becomes the smartwatch's body. It's sandwich between diamond-like ceramic components for strength. It is supporting by a body from a combination of aluminum alloy and 316L stainless steel. It's even built to be IP54 dust and water-resistant. Which makes it safe against sweat or mild water splashes. However, Nubia's most impressive feature is its battery. Which runs for a week in power-saving mode.
A fact that's only made more impressive considering how large the display on it is. Even when used outside the power-saving mode, the Nubia lasts a pretty impressive 36 hours before needing a charge. It charges wirelessly, with a dock that comes inside the box, and ships with skin-friendly silicone straps, although you could easily opt for an additional pair of Napa leather straps too… just to make the Nubia look like an all-round stunner!